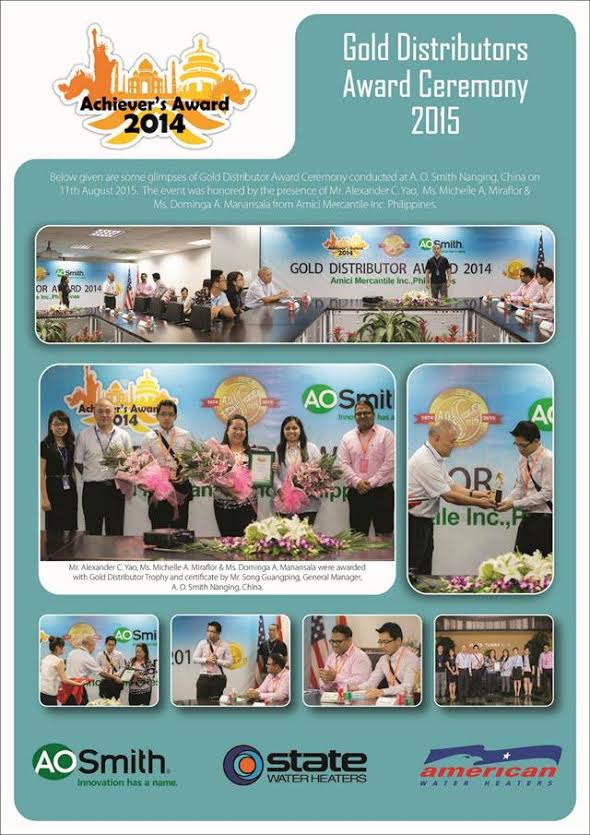 A. O. Smith awarded Amici Mercantile Inc. with the Gold Distributors Award for its water heater sales performance for the year 2014. The awarding ceremony was held last August 12 in Nanjing, China.
Vikrant Malhotra, Far East Asia and Asia-Pacific representative for A. O. Smith, presented the award to Alexander Yao, general manager, together with Michelle Miraflor and Dominga Aguja. Michelle Miraflor is Amici's sales manager for water heating. She lead the commercial water heating systems team to win important projects last year for a stellar performance. Dominga Aguja, their domestic sales supervisor, also lead her team to contribute significantly in popularizing hybrid heat pump heaters in the residential market.
Besides the awarding, the Amici team also took the opportunity to learn more about A. O. Smith's China operation, and to visit A. O. Smith's expanded and automated water heater factory in Nanjing.
A. O. Smith is one of the largest water heater company in the world. It has facilities in the USA, Canada, Mexico, China, India, and Netherlands. A. O. Smith is also the market leader in water heaters in China, and has already expanded to water treatment and air purification for China's domestic market.
Amici Mercantile Inc. is the leading commercial water heating company in the Philippines. It has supplied energy efficient heat pump water heating systems to over 100 hotels, resorts, and hospitals in the Philippines.