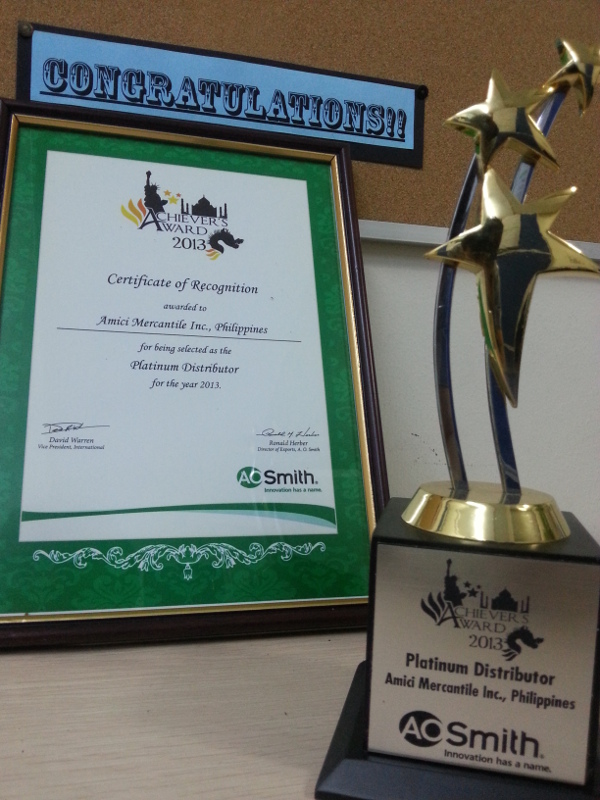 After a record year in water heater sales in 2013, A. O. Smith awarded Amici Mercantile Inc. the 2013 Platinum Distributor Achiever Award. The Achiever's awards are given to A. O. Smith distributors who have shown the highest growths compared to their targets. Amici's end-to-end solutions-based approach to commercial heating and a multi-prong approach to the water heating business allowed it to lead the water heating industry in the Philippines and surpass expectations of A. O. Smith.  A. O. Smith's Korean distributor won the Gold award while a Taiwanese distributor won the Silver award.
A. O. Smith is a global leader in water technology.  It is one of the largest water heater manufacturer in the world and leads in market share in the USA for both residential and commercial water heaters. It is also the leading manufacturer of storage water heaters for the Philippines.
Amici Mercantile Inc. is an importer and distributor of international water technology products and A. O. Smith's Philippine distributor Amici is the leader in commercial water heating in the Philippines having installed energy efficient heat pump water heating systems to over 150 hotels all around the Philippines.