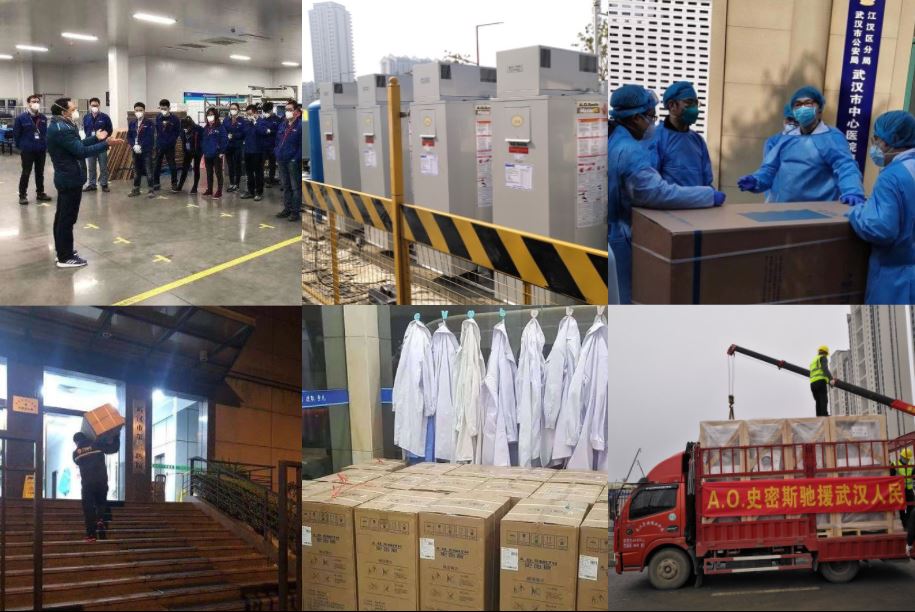 To combat the outbreak of the coronavirus that has spread in China and other countries, A.O. Smith has donated air purifiers to various hospitals.
Tami Kou, the director of corporate communications for A.O. Smith Corp, said that a total of 50 air purification units were donated and installed in different hospitals in China.   
Thirty air purifiers were donated to Tongji Hospital in Wuhan while twenty units were donated to Gulou Hospital in Nanjing.
Kou also mentioned that the air purifiers are very efficient in removing the H1N1 virus which has been reported to be the same size as the current coronavirus.  
A.O. Smith is currently working side by side with the Red Cross in China to further install 150 units in various hospitals that are dealing with the virus that has already killed 41 people. 
[UPDATE 9/15/20]
Since January 31, AO Smith has also donated 82 commercial water purifying units to 12 designated hospitals in Wuhan, with a cumulative value of ₱21 million, will provide safe and healthy drinking water services for medical staff and patients.
During the critical period of joint prevention and control of the epidemic across the country, AO Smith dutifully mobilized the entire organization to aid major hospitals and support frontliners. AO Smith employees also gave up their holidays to return to work earlier in order to deliver the donated air purifiers on time.
Fully recognizing the urgency of the situation, A.O Smith bolstered their production capacity to ensure that the air purifiers were delivered to the designated hospitals as soon as possible. 30 employees of the company arrived at the front line in Wuhan and worked tirelessly to aid in the installation of hot water systems in hospitals and ensure it was completed on schedule.
To date, AO Smith has donated 2000 air purifiers equivalent to ₱97 million, the equipment donated by AO Smith will provide clean indoor air, hot water for bathing and purified drinking water for medical workers fighting on the front lines which will effectively help prevent and control the spread of the epidemic.
Source:
https://www.jsonline.com/story/news/2020/01/25/a-o-smith-milwaukee-donates-equipment-combat-coronavirus/4575837002/
https://thewatercouncil.com/media/newsroom/news/member-news-a-o-smith-donates-2000-air-purifiers-to-combat-the-coronavirus-in-china/