A. O. Smith TE55 5.5kW Tankless Electric Water Heater offers a unique and highly efficient user experience as it is designed to redefine your bathing experience by providing hot water instantaneously and continuously. This is an innovative product that adds a posh statement that enhances the modern bathroom. With sleek design and compact size, this new Digital Water heater fits easily in your existing space, providing a constant temperature experience for the ultimate bathing experience.
Available in 3.5kW and 5.5kW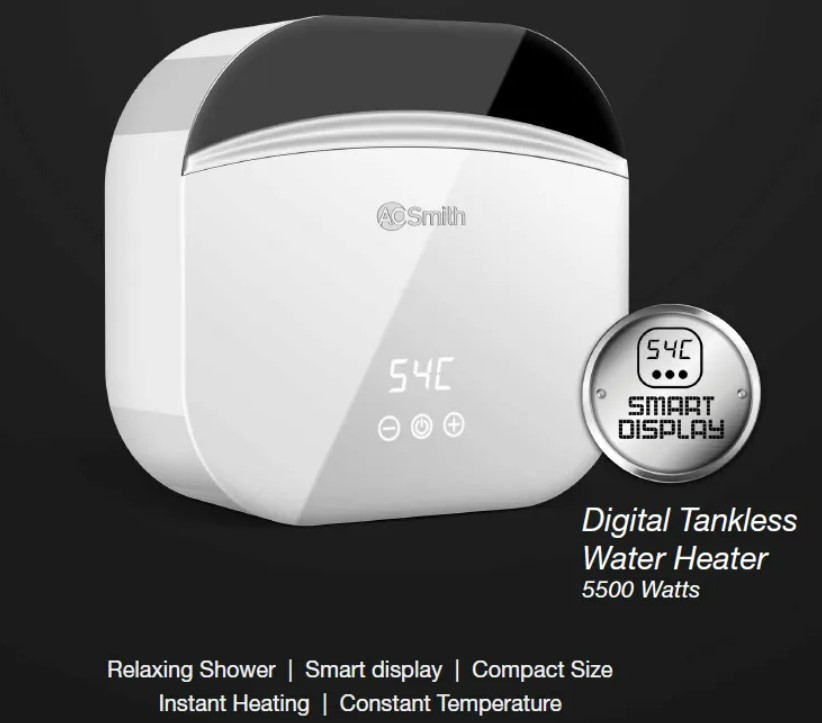 Product Benefits
Smart Display
Easy to use touch controls
Compact size
Flexible mounting
Pre-installed power cord for simpler installation
Get constant hot water
Superior Safety
Helps Save energy and water through automatic power control
Tested against hard water conditions
Safety Features
Anti-dry run Flow switch activation
Thermostat control
Leakage Fault Detection
Grounding wire provided with power cord
Pressure relief device
IP25 Splash proof design
How It Works
This smart water heater by A. O. Smith has a flow switch that detects water flow and automatically operates the water heater. With its temperature display and feather touch interface, you can easily select your desired temperature. The heater will modulate its energy use to provide your desired hot water. 
Features 
Why Choose Our Product
Specifications
A. O. Smith TE Multipoint Heater Specifications

| Model | TE-35 | TE-55 |
| --- | --- | --- |
| Power | 3500W | 5500W |
| Voltage | 230V | 230V |
| Rated Current | 15A | 24A |
| Required Circuit Breaker | 20A | 32A |
| Min. activating flow rate | 1.2-1.5 lpm | 1.2-1.5 lpm |
| Operating Pressure | 0.2 - 6 bars | 0.2 - 6 bars |
| Inlet/Outlet Connections | 1/2 BSP | 1/2 BSP |
| Dimensions (h x w x d mm) | 252 x 250 x 90 | 252 x 250 x 90 |
| Net Weight | 2.1 kg | 2.1 kg |