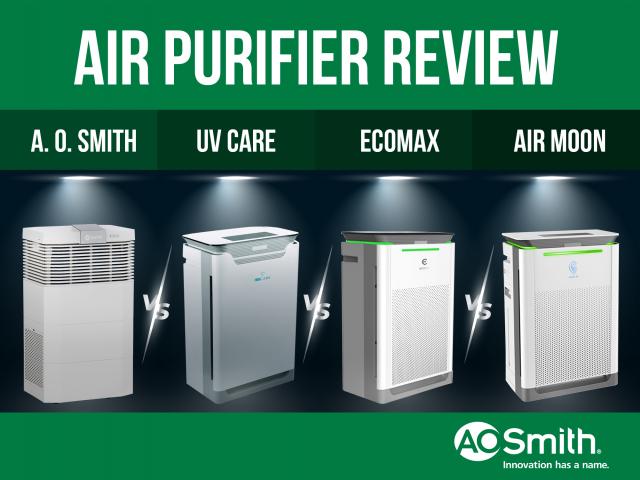 ​
Air purifiers have experienced rapid increase in demand due to the Covid-19 pandemic. Naturally, many suppliers have taken this opportunity to market air purifiers in the Philippines.
In this article, we will review large room air purifiers from A. O. Smith and UV Care, another popular brand. We also mention in this review Ecomax and Air Moon's 8-stage air purifiers since they appear to be the same as UV Care's 420m3/hr air purifier.
We will help you get through the marketing buzz words so you can choose what's best for you and your family or coworkers.
Models at a Glance
We select the following models since they are closest in CADR rating and pricing.
Model
A. O. Smith KJ500F-B01 HEPA Air Purifier
UV Care 8-Stage Air Purifier with Humidifier
Ecomax UV Tech 80-H Air Purifier
Air Moon Ultra UV Air Purifier with Humidifier
Room Height
Room size to achieve DOLE/DOH REcommended Minimum 4 ACH
Picture
PM 2.5 CADR
500m3/hr
420 m3/hr
SRP
Php 36,000
Php 39,995
Php 33,995
Php 32,500
Advertised Room Size vs ACH (2.5m room height)
35 - 60 m2  
(5.7 - 3.3 ACH)
80 m2  
(2.1 ACH)
80 m2  
(2.1 ACH)
65 m2  
(2.58 ACH)
3m (9.8ft)
41.66 m2
35 m2
2.7m (8.8ft)
46.29 m2
38.88 m2
2.5m (8.2ft)
50 m2
42 m2
2.4m (7.87ft)
52.08 m2
43.75 m2
Note: To compute recommended minimum room size, we use this formula: CADR / room height / 4 ACH = room size.
We note there is a disparity between advertised room sizes and computed room sizes when following DOLE and DOH recommended air changes per hour. This is because air purifiers should be sized based on the room's dimensions (including height) as well as its function. For COVID-19 risk reduction purposes, DOLE recommends at least 4-6 air changes per hour (ACH). 
Since air purifiers (that work) are generally expensive investments, we want to make sure we get value out of our hard earned money. Next, we look at the brands.
Brands
A. O. Smith is an American company with over 145 years of history. It is the largest water heating company in the world, and also the #1 premium brand of air purifiers, water purifiers, and water heaters in China as of 2018. A. O. Smith has manufacturing facilities in the USA, Canada, China, India, Turkey, and the Netherlands.
UV Care states it is an American brand that started in 2015. It carries all sorts of UV-related products such as shoe sanitizers, portable UV lamps, sterilization boxes, room surface sterilizers, and air purifiers.
Ecomax is a Philippine company selling various kinds of air purifiers, from ible Airvida negative ion air purifier necklace to room and car air purifiers.
Air Moon is another brand selling the same 420m3/hr CADR air purifiers as Ecomax and UV Care. Air Moon also sells sterilization boxes and alcohol dispensers.
All the air purifiers in this review are made in China. A. O. Smith is well known in China, having its own manufacturing facility in Nanjing since 1997. The other brands get their air purifiers from an OEM manufacturer in China.
Performance
Clean Air Delivery Rate
A. O. Smith KJ500F-B01 has a 500 m3/hr CADR rating for particulate matter and 120 m3/hr CADR rating for formaldehyde. The UV Care, Ecomax, and Air Moon 8-stage air purifiers have a 420 m3/hr CADR rating for particulate matter. They do not publish their formaldehyde CADR.
CADR tells us how fast an air purifier can clean. Given the CADR ratings, A. O. Smith's air purifier is roughly 19% faster at cleaning than the OEM air purifiers.
Air Changes per Hour and Room Size
ACH lets us know how many times the whole room air can be cleaned within an hour. The more occupants or visitors a room has, the higher the ACH should be. For allergy management or COVID-19 risk reduction, we should target at least 4 ACH. 
The KJ500F-B01 is applicable to room sizes between 35 m2 to 60 m2, given a room height of 2.5m and ACH between 5.7 to 3.3. If the room height is 2.5m, we can achieve at least 4 ACH at room size 50 m2 or below.
Air Moon claims its air purifier can be used for up to 65 m2 rooms. Inconsistently, UV Care and Ecomax claim that their air purifiers can cover up to 80 square meter rooms. Given their 420m³/hr CADR capacity, they will provide only 2.1 air changes per hour, well below recommended standards.
If we target at least 4 ACH, these air purifiers are good only for rooms up to 42 m2.  If used for an 80 m2  room, the room should be no more than 4.3 ft high!
Purification Technology
A. O. Smith Technology
A. O. Smith KJ500F-B01 has a dual system 3-stage filtration: (1) MERV7 pre-filter, (2) Active Carbon, (3) MERV17 HEPA filter.
The unique dual air intake and output system allows faster circulation and better filtration of room air.
The MERV7 pre-filters capture most particulate matter 3 to 10 um in size, protecting the life of the main HEPA filters.
The Active Carbon removes VOCs such as formaldehyde, toluene, tobacco smoke, etc. KJ500F has 1kg of active carbon. It has a 97.24% formaldehyde removal rate within 60 minutes.
The MERV17 HEPA filters have 99.97% efficiency in capturing 0.3 um. They are effective against dust mites, pollen, bacteria, viruses, etc. MERV17 is the minimum American standard used for surgical rooms and clean rooms. Particulate matter removal rate within 20 minutes is 99.76%.
A. O. Smith's Cumulative Clean Mass (CCM) ratings for particulate matter and formaldehyde are P4 and F4, the highest CCM ratings. This means the filters are expected to perform well over the long term and will not suffer significant performance drops in just a few months.
UV Care, Ecomax, Air Moon Technology
UV Care, Ecomax and Air Moon boast an 8-stage purification process.
The OEM brands do not disclose the MERV/HEPA standard of their prefilter. Nevertheless, their main filter is HEPA H13, having an average efficiency of 99.95% at 0.3 microns. The HEPA H13 standard is the approximate European equivalent of USA's MERV17 standard.
Activated carbon and zeolite are designed primarily for gas/VOC filtration. Zeolite is a cheaper but less effective substitute for active carbon. UV Care and Air Moon call it with a fancier name, "Molecular Sieve Absorption Layer." 
UV Care, Ecomax, and Air Moon do not disclose the amount of active carbon in their filters nor their CADR rating. UV Care gives the following purification rates instead:
1. 99.9% for PM  
2. 5 2. 97.6% for germs  
3. 96.2% for formaldehyde
However, they do not mention how long it takes the purifier to achieve those rates. CCM is important to know how well air purifiers perform after more than a couple of months. Since the OEM purifiers do not publish their CCM ratings for particulate matter and formaldehyde, we cannot ascertain how well the filters will hold up after a few months.
Besides the mechanical filtration done by the pre-filter, HEPA filter and active carbon/zeolite stages, the OEM air purifiers also included other electronic cleaning stages as well as a humidifier. We look at their value propositions below.
Photocatalytic oxidation (PCO) or what Air Moon calls "cold catalyst" is a technology that uses UV to activate a chemical catalyst to create molecules that can oxidize pollutants into harmless CO2 and water. However, incomplete oxidation can lead to more harmful byproducts. UV used in PCO may also produce harmful ozone.
The ionizer stage produces 10 million pcs/cm3 of negative ions. Negative ions combine with cation pollutants and make them fall and stick to surfaces (including your pillows, bed, food on the table, and even your own body). There are also claims they are effective against viruses such as the coronavirus. However, DOH discourages the use of negative ion purifiers due to inadequate evidence. Research also shows that negative ions can inadvertently produce ozone and other harmful VOCs.
The UV stage uses ultraviolet light to attempt to deactivate any bacteria or viruses that escape the previous filters as the air moves through the end of the air purifier. When the air purifier is running at 420 m3/hr, that means more than 4 cubic feet of air is passing through every second. This may not be enough time for UV to be effective.
Finally, the humidifier stage increases the moisture in the air. To use the humidifier, you simply put water in the water tank. A humidifier can be helpful when relative humidity is below 40%. However, we generally have over 60% RH in the Philippines. Increasing humidity may encourage the growth of bacteria and molds as well as damage electronic equipment.
Filter Comparison
Pre-Filters
Since we do not have clear specifications from the OEM purifiers, we will compare the filter dimensions.
| Pre- Filter | A. O. Smith KJ500F-B01 | UV Care / Ecomax / Air Moon |
| --- | --- | --- |
| MERV Standard | MERV7 | Not specified |
| Dimensions mm | 230 x 205 x 19 | 397 x 291 x 6 |
| Qty | 2 | 1 |
| Total Volume | 1,791,700 mm3 | 693,162 mm3 |
The combined volume of the A. O. Smith pre-filters is more than double that of the other brands. This is indicative of how much better they can filter and how much longer they can last.
Main Filters
A. O. Smith combines the HEPA and active carbon filter in one back-to-back piece. The other brands have separate HEPA and active carbon filters
Main Filter
A. O. Smith KJ500F-B01
UV Care / Ecomax / Air Moon
MERV/HEPA Standard
MERV17 (99.97% at 0.3um) 
H13 (99.95% at 0.3um)
HEPA Filter Surface Area
3.6 m2
Not specified
Active Carbon
1 Kilogram
Not specified

Dimensions mm

(H x W x D mm)

307 x 336  x 48
HEPA: 397 x 291 x 25  
Carbon: 397 x 290 x 13
Qty
2
1
Total Volume
9,902,592 mm3
4,384,865 mm3
Again, the combined volume for the main filters of A. O. Smith is more than double. We can expect its performance to last much longer and also do better with VOC removal.
A.O. Smith's main filters and pre-filters have different placement so when you're replacing a certain filter, you don't need to remove all the filters from the air purifier. Their filters also have pull-out flaps so they are easier to remove compared to the filters of OEM purifiers. With those handles, you don't need to touch the filters using your bare hands.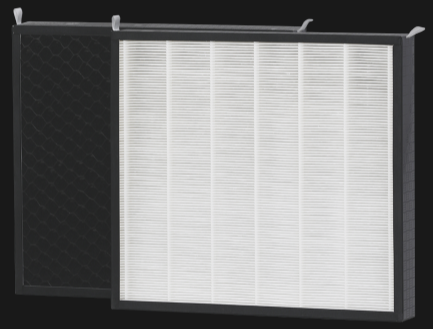 ​
Ozone Re-pollution
A. O. Smith's air purifier does not re-pollute the air since it only uses proven mechanical filtration technologies.
On the other hand, UV Care and the other brands use negative ions, PCO and UV which may introduce ozone, formaldehyde and other oxygenated VOCs in the air. Since these pollutants can cause a wide range of health problems over time, we recommend turning off the ion generator when using these air purifiers in rooms with children and elderly.
Appearance and Dimensions
A. O. Smith's air purifier has an unassuming, durable appliance feel with a minimalistic LED touch interface. It's 2 ft 4 inches tall, 15 inches wide, 10.8 inches deep.
UV Care, Ecomax, and Air Moon air purifiers have a common generic appearance. The only difference among the three are the front panel covers and the brand logos used. They're just less than 2 ft tall, 16 inches wide, and 9.7 inches deep.
Although they have similar dimensions, A. O. Smith KJ500F-B01 weighs 14kg while the other brands weigh 10.8 kg. KJ500F-B01 weighs almost 30% more than the other purifiers due to larger motors, filters and other parts. It comes with 4-way caster wheels for easy transport within your house or office.
Model
A. O. Smith 
UV Care
Ecomax
Air Moon
Appearance

Dimensions mm

(H x W x D)

708 x 381 x 275
603 x 245 x 391
Weight
14 kg
10.8 kg
User Interface
The A. O. Smith air purifier has a touch interface showing real time PM2.5 and gas pollution status. Blue means air quality is excellent (0-35 ug/m3), yellow means good (36-75 ug/m3), orange means moderate (76-150 ug/m3), red means bad (151-999 ug/m3).
It also displays the life of the pre-filter and main filter. When a filter life goes down to one bar, it changes its color to red.
From the touch control, you can power it on and off, change the fan speed as well as operating mode from Smart, Sleep, to Quick.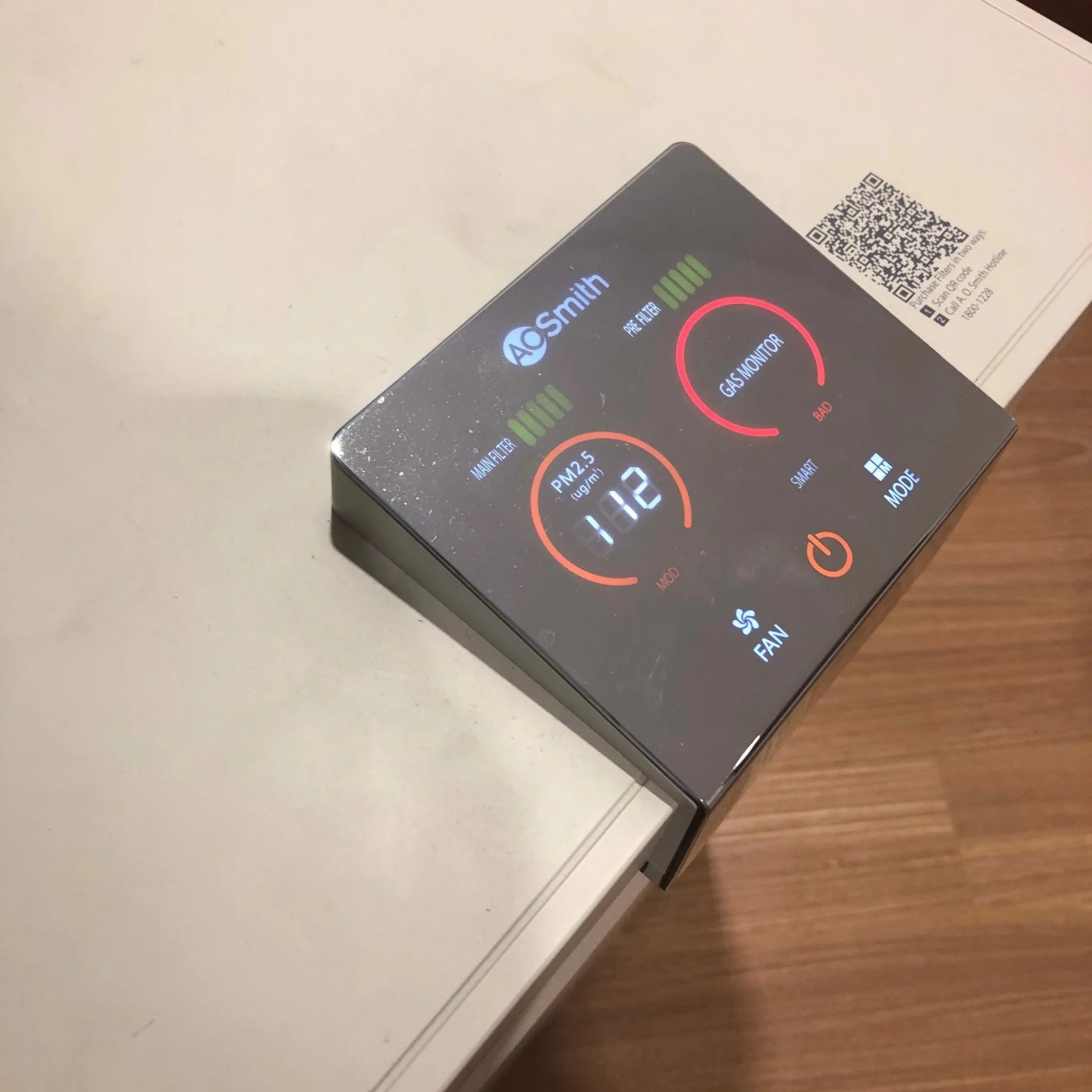 ​
UV Care, Ecomax, and Air Moon share the same on-device user interface. The interface can display the detected PM2.5 level, temperature and humidity. It doesn't have a gas/VOC pollution display since it lacks a gas sensor.
Unlike AO Smith, OEM's display doesn't show the current life of the consumable filters. Once the filters are already used for 3000 hours, a Reset indicator will light up and you will hear an alarm sound. If you don't have any spare consumables, you may suddenly find yourself without a functioning air purifier since you won't be notified if the 3000th hour is about to come up.
The user interface allows you to turn the UV and ion generator on and off. You may be better off shutting down those functions so you can reduce energy use and avoid ozone and VOC re-pollution in the room.
The air purifiers have several modes including Automatic, Sleep, and Timer. Pressing Timer allows you to select whether to power off in 1, 2, 4, or 8 hours.
They also have a child lock function to prevent accidental key presses on the air purifier.

​
The OEM air purifiers have a rather hard-to-ignore air quality light indicator around the appliance. It's green when air quality is excellent (0-50 ug/m3), blue when good (50-100 ug/m3), yellow when moderate (100-150 ug/m3), and red when air is bad (> 150 ug/m3).
UV Care, Ecomax and Air Moon air purifiers include a remote control so you can control the air purifiers up to 10m away. They can also be connected to their respective mobile apps via Wifi. With the app, you can change the function mode, fan speed as well as see the air quality sensed by the air purifier. While the remote functions can be convenient at times, you would usually just set the air purifier once a day and let it do its job automatically.
PM 2.5 ug/m3
China Air Quality
US Air Quality
A. O. Smith 
OEM
0-12
Excellent  
 
Excellent
Excellent
Excellent
12-35
Moderate
35-50
Good
Unhealthy for Sensitive Groups
Good
50-55
Good
55-75
Unhealthy
75-100
Lightly Polluted
Moderate
100-115
Moderate
115-150
Moderately Polluted
150-250
Heavily Polluted
Very Unhealthy
Bad
Bad
250-500
Severely Polluted
Hazardous
You may notice though that the A. O. Smith and the generic air purifiers have different quality ranges. A. O. Smith's range for the excellent air quality is 0-35. It is similar to China's standard for excellent air quality. Meanwhile, OEM labeled 0-50 as excellent air quality. For US standards it's already unhealthy for sensitive groups but for OEM air purifiers it's still considered excellent.
Sensors
Accurate sensors are very important for air purifiers that provide automatic operation. Automatic operation means the air purifier continuously senses the current air quality and adjusts the fan speed depending on the air quality, saving electricity and reducing noise. Poor quality sensors may lead to inadequate air cleaning.
A. O. Smith KJ500F-B01 has an infrared dust sensor and a PM2.5 laser sensor working together to provide real time accurate PM2.5 measurements without sacrificing sensor life. It also has a gas sensor for measuring VOCs.
The OEM air purifiers only have a single dust sensor for air quality measurement. Ordinary infrared dust sensors have a longer life than laser sensors, but they are much less precise. 
The OEM air purifiers also have temperature and humidity sensors. While not directly connected to air quality, since the air purifiers have a built-in humidifier function, displaying humidity can be helpful. You won't want to use the humidifier when humidity is above 40% RH already.
Electric Consumption
At maximum speed, A. O. Smith's air purifier consumes 63W while the other brands consume 65W. Although they all have roughly the same electrical consumption, the A. O. Smith model is able to clean almost 20% more air than the others.
When using the OEM air purifiers, we suggest turning off the UV and ionizer to reduce electrical use.
Noise
A.O. Smith KJ500F-B01's noise level at maximum speed is 63 decibels, just a little quieter than the 66 decibel maximum noise level of the other purifiers. 
Price
A. O. Smith's KJ500F-B01 retails for 36,000 php. For a 500m3/hr CADR air purifier, it is competitively priced.
UV Care's 8-stage air purifier retails for 39,995 php. With its lower capacity, it is a bit overpriced. EcoMax's version of the same air purifier retails for 33,995 php. Moon Air's version on the other hand retails for 32,500 php.
Consumables
A. O. Smith's KJ500F-B01 has two types of consumable filters: MERV7 pre-filters and MERV17 HEPA plus Active Carbon main filters. 
The pre-filters are replaced every 6 months or so, and are priced at 1,500php per pair. The main filters are replaced every 1 to 1.5 years. They cost 8,500php per pair. 
Filter lifespan is just an estimate; your replacement schedule will actually depend on your usage and how bad the air pollution is.
For UV Care, their standard replacement filters are the elementary filter, HEPA filter, and active carbon+zeolite filter. The 3 piece set costs 6,000php and they are replaced 1-2 times per year.
The 6W UV lamp inside the air purifier lasts for 8000 hours and it costs 1,000php. There are no indicators when you need to replace it.
The antibacterial humidifier filter costs 1,500php. However, you can opt not to use the humidifier function by not putting water in the unit.
Consumable
Lifetime
Price
A. O. Smith KJ500F-B01
UV Care / Ecomax / Air Moon
Pre-filter x 2
~6 months
1,500 php
HEPA + Active Carbon Main Filter
12-18 months
8,500 php
Total Cost
Per Year
11,500 php
Pre-filter + HEPA + Active Carbon Set
~6-12 months
6,000 php x 2
UV Lamp
8000 hours; 10.9 months when run continuously; 2.7 years when run for 8 hours everyday
1,000 php
Antibacterial Humidifier
 ~6- 12 months
1,500 php x 2
Total Cost
Per Year
16,000 php
A. O. Smith recommends the filters be replaced after their life span. On the other hand, the manual of the OEM air purifiers states that all their filters can be cleaned, including the HEPA filter (via vacuum cleaner) and the activated carbon (by leaving it under the sun). 
Experts' recommendations are always to replace and not clean HEPA filters. Using vacuum cleaners or water and detergent reportedly can damage the structure of HEPA filters, lowering their efficiency and thereby rendering the air purifiers ineffective.
For total cost of ownership, A. O. Smith KJ500F-B01 has about 11,500php annual consumable costs. For the OEM air purifiers, annual consumable total cost can go up to 16,000php.
Conclusion
The OEM air purifiers offer a few nice-to-haves the A. O. Smith air purifier does not have, such as lock functionality, humidifier, and mobile app integration. They also have ionizers and UV stages which have unclear value propositions.  But if you are serious about improving air quality and reducing risks, A. O. Smith's air purifier offers better overall performance.
​