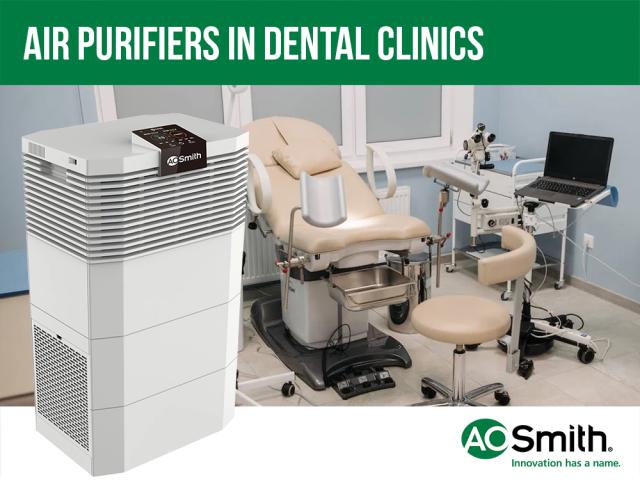 ​
 Due to the Covid-19 pandemic, everyone has become more conscious of the air they breathe. Although they may want to stay at home most of the time, they still somehow need to go for dental treatments. Dental clinics are considered as one of the risky public places to go at in the midst of COVID-19 since there have been possibilities that the virus may spread at dental clinics as well. As a dentist or someone who works in a dental clinic, it's important for you to make sure that your workplace follows protective measures in order to ensure the safety of everyone who works and visits in the clinic.
Indoor air quality in dental clinics
Dental clinics are especially at risk for poor indoor air quality. Dentists treat patients with their mouths wide open. During treatment, there is naturally a higher incidence of pathogens being released or ingested.
As patients come and go, air pollution which consists of viral, fungal, fine and ultra-fine particles continually exfoliates from the skin of people in the clinic and these can reach deep into lungs and eventually be absorbed into the bloodstream. Those particles can also be introduced into the air. Safe indoor quality at dental offices is important especially for the dental team since working for hours in a dental clinic, which is normally indoor and air conditioned, is risky thus, ventilation is very necessary.
Risks of a Dental Procedure
Aside from the number of airborne viruses, bacteria and particles that may pose the greatest risk to the health and well-being of everyone in a dental clinic, you and your team can also be exposed to toxic compounds through working as you use various chemical compounds such as Anaesthetic Gas, Dental Amalgam and Hydroquinone which can gradually cause discomfort and serious health problems.
Dental procedures such as the use of high-speed drills and ultrasonic scaling equipment generates moisture droplets of blood, saliva, and filling particles. These impurities can be dispersed in the air and can become a potential source of infection when inhaled during situations where your patients need to remove their mask for a dental operation or surgery. Patients' exposure to these impurities is limited but you and your team are always exposed to these due to multiple daily interactions. That's why it's important for the dental team to use masks, visors and gloves, together with disinfection to help prevent infection.
Limited service and entry
COVID-19 is a serious problem and we shouldn't underestimate it. Nowadays, it's normal for restaurants, coffee shops, stores and other public places to accept a limited number of customers. Same goes with dental clinics. It'll be better if patients will set appointments days before they come to the clinic. However, those appointments should be monitored because the clinic cannot be crowded. Make sure that their schedules do not overlap. It's also necessary to make them fill up a health screening form. As much as possible, allow patients only inside the clinic for a less possible source of the virus.
The use of air purifiers is essential
When the air on a certain premises is at risk, it's important to acquire an air purifier. Breathing clean and fresh air is as important as eating nutritious food. Air pollution, both outdoor and indoor can increase the risk of the transmission of infectious diseases. It'll be too hard to control the outdoor air pollution but we can easily manage the indoor air pollution. Dentists, patients and staff need protection from viruses, bacteria, chemicals, particles, microbes, volatile organic compounds (VOCs) and this can be achieved by using high-quality air purifiers.
Air purifiers helps fight COVID-19
Many air purifiers are available in the market today such as UV or Ionic air purifiers. However, they are not as efficient as HEPA air purifiers in removing viruses from the air. The dental  clinic needs an advanced filtration in order to eliminate air impurities down to the very small size. HEPA air purifiers are effective at removing fine airborne particles as small as 0.3 microns. It can also remove 99.9% of viruses from the air including COVID-19. 
Besides, it's definitely not a good idea to use Ionic Air Purifiers as they don't remove large particles from the air, including those that trigger asthma and allergy symptoms. Ionizers also produce Ozone by-product, a lung irritant that is harmful to human health. Therefore, Ozone Generators that are sold as air purifiers are also dangerous. Instead of bringing comfortable air to the dental clinic, it may worsen the indoor air quality.
Areas in a Dental Clinic that need air purifiers
Ideally, every room in dental clinics should have a proper air filtration but installing air purifiers in every room may be impossible because of high total cost. That's why air purifiers should be prioritized in areas where aerosols and airborne transmission is highest such as waiting areas, operatories, workstations, etc. But the air purifier units that you will place should have the ACH rate that is proper to these rooms.
The CDC provided a chart of the recommended minimum ACH rates for each dental room.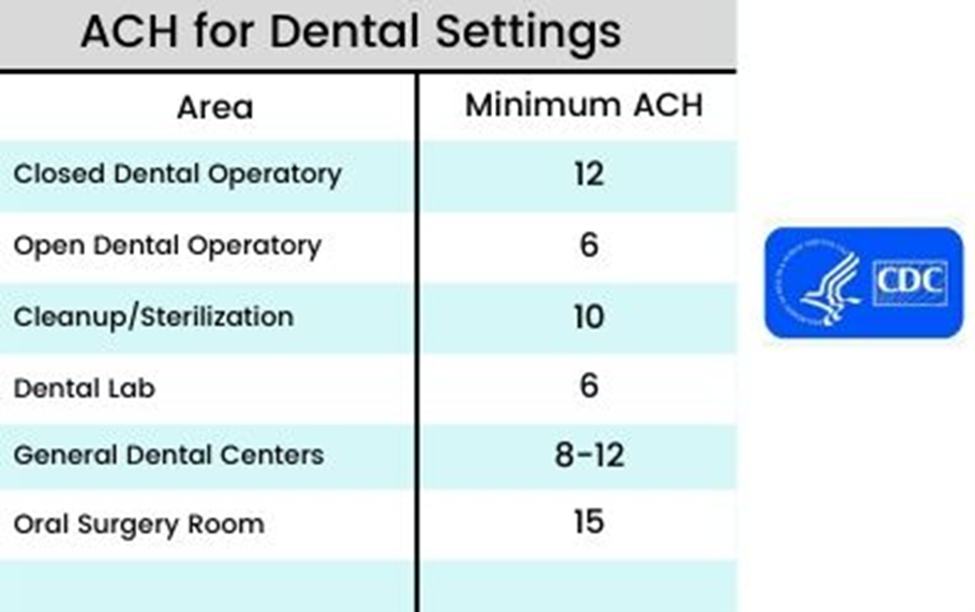 ​
The Oral Surgery Room got the highest required ACH (15) while Open Dental Operatory and Dental Lab both have 6 ACH as minimum.
Conclusion
One solution to the heightened concern over the spread of COVID-19 is through addressing indoor air quality. The indoor air at dental offices can be effectively purified with air purifiers. Dental offices can be a source of unhealthy air due to numerous contaminants, irritants and unwanted particles which can pose threats to vulnerable patients like children, pregnant women and older people. However, with the help of an air purifier, the number of these airborne impurities can be significantly reduced. Safer and healthier environment will be introduced to your patients and your team. Invest in your health, invest in air purifiers.
​