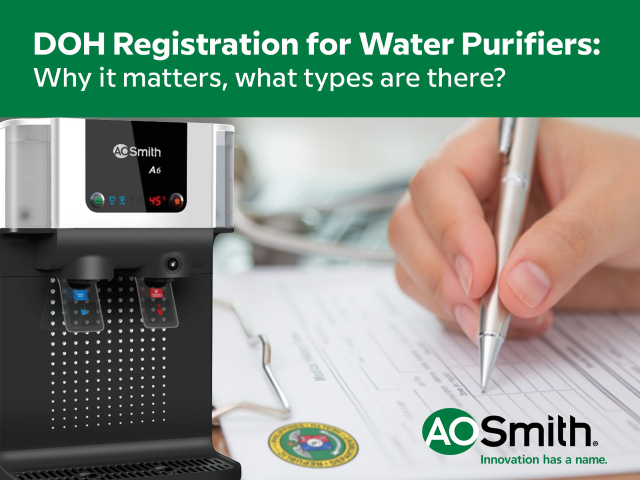 ​
 With the proliferation of imported water filters and purifiers, all with different price points and advertised features, it can be hard to determine which have valid claims and are safe to use. That's why it is recommended for water filters and purifiers to have Department of Health (DOH) certification. Certification allows consumers to know that certified purifiers are independently tested to produce water quality safe and clean enough for drinking, cooking and for hygiene purposes.
Water Service Provider's Evaluation
The 2017 Philippine National Standards for Drinking Water (PNSDW) was implemented to protect the public and consumer's health by examining the standards and procedures on drinking-water quality of all drinking-water service providers such as government and private developers and operators, bulk water suppliers, water refilling station operators, water vending machine operators, ice manufacturers, food establishments, all buildings that use/supply/serve drinking water, water testing laboratories, health and sanitation authorities. This policy is an updated version of the PNSDW of 2007 by the Inter-agency Technical Working Group (TWG) headed by the DOH and supported by the World Health Organization (WHO).
Purified Water and Safe Drinking Water Standards
DOH/FDA has two standards for water quality: Purified Water and Safe Drinking Water. When you register a water purification device, you have to choose between the two standards which you want to certify for. 
Water samples from your device are required to meet the physical, chemical, and bacteriological parameters of your chosen standard. The Safe Drinking Water standard tests for the minimum requirements for water to be considered safe for consumption. The Purified Water standard adds tests for Alkalinity, Acidity, Total Dissolved Solids, Total Suspended Solids, Calcium and Magnesium.
Chemical-based gravity filters, carbon filters, and UV-based purifiers are usually tested under Safe Drinking Water standards. RO and distilled water purifiers are usually tested under Purified Water standards.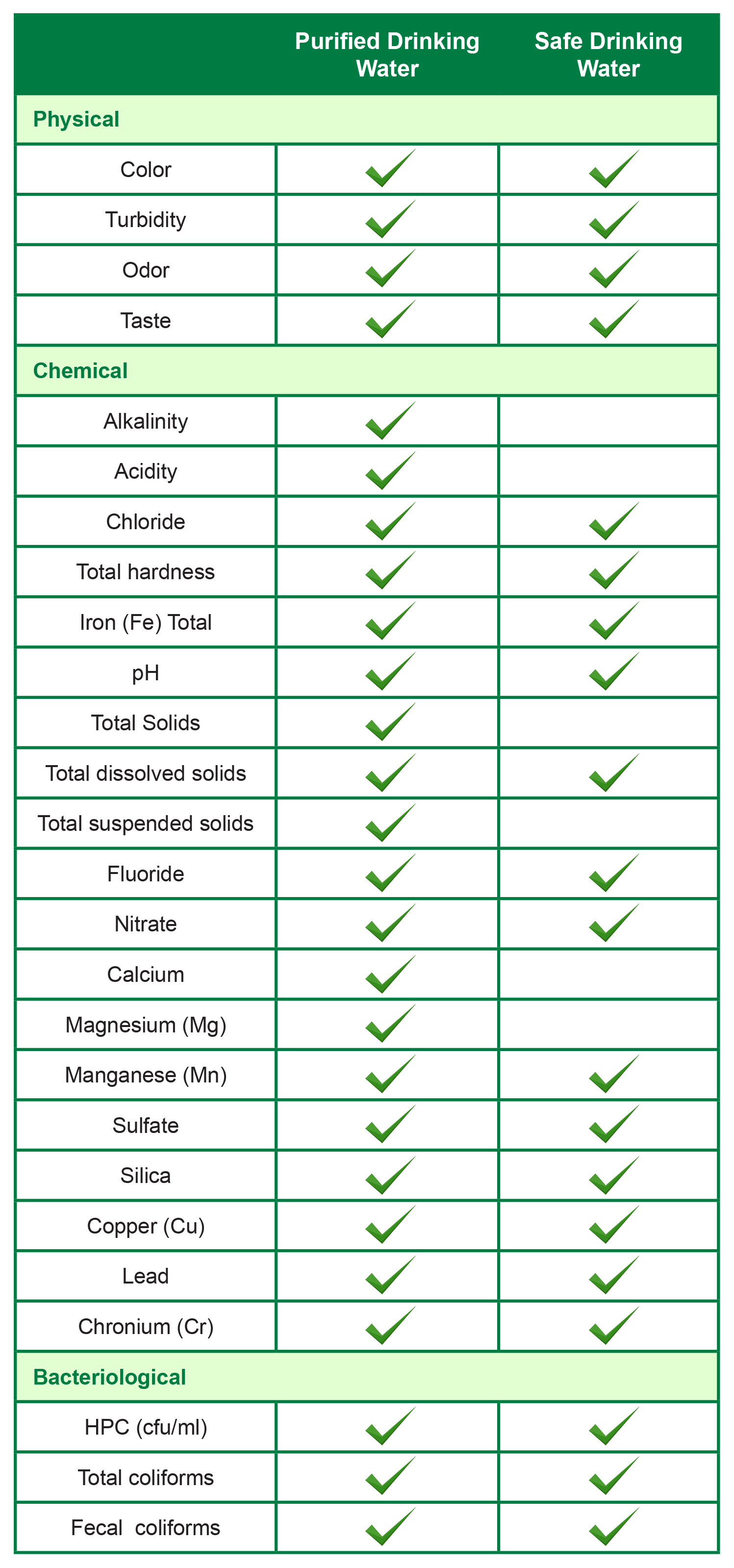 ​
Requirements for Registration of Water Purifiers
For the water purifier's registration, the device supplier must submit the following requirements:
Manual and brochures- DOH/FDA needs to check that there are no unsubstantiated claims and that the schematic design of the purifier has a technological basis.
List of materials of the purifier- DOH will review the materials used to ensure materials in contact with water are appropriate for drinkable water.
Water sample- Actual testing is done by a 3rd party laboratory to confirm safety or purity of water.
The whole registration process, besides the water testing, is done online. The registration form is available on DOH's website. The initial DOH registration for water purifiers is valid for 3 years. Afterwards, when renewed certification is valid for up to 5 years. The cost for registration, including testing, goes to about Php15,000.
Benefits of DOH Registered Water Purifiers
1) You can avoid falling for misleading marketing – You are better protected from misleading marketing tactics. DOH FDA reviews marketing and technical documentation to determine they are based on sound science. This is one reason you won't find many approved alkaline water machines registered with DOH. 
2) You will know if it works effectively or not – Since it's hard to tell just from naked eye if a purifier really filters water effectively, DOH and FDA can be your third-party tester as they require third party testing by certified laboratories.
3) You will be more confident of your chosen brand – Due to the investment in getting government certification/registration, chances are, companies taking the necessary effort to get certified are more trustworthy and will not disappear after a year or so, when it's time for yearly replacement of consumables.
Limitations of the DOH Registration
There is no standard for input water. It can depend on the site where samples are taken. If the filter is installed where the water source is already very good and controlled, it can pass the laboratory test easily.
Some contaminants like VOCs and pesticides are not tested, since government-certified labs cannot reliably test against them. This limits the claims a purifier can make. On the other hand, testing for each individual contaminant can be very costly.
There seems to be inadequate international cooperation for water testing standards. Even though a device has been certified already in many countries, these tests are not considered for the Philippines. The supplier still has to register the device in the Philippines, leading to higher costs. 
There is no standard for purified and mineralized water. A. O. Smith A6 and S7 RO purifiers add back healthy minerals after purifying the water. These can only be certified under Safe drinking water due to the MinTech stage after the RO.
Conclusion
To protect consumers, registering a water purifier with DOH/FDA is a requirement in the Philippines. However, there are still water purifiers sold in the market, especially in ecommerce market places like Lazada and Shopee, as well as multi-level marketing companies without FDA approval.
If you are looking for water purifiers, it is better to choose DOH-registered water purifiers. DOH-registered water purifiers are accredited to give safe drinking water. Companies that go through this process are seen to be more trustworthy and reliable in the long run.
​